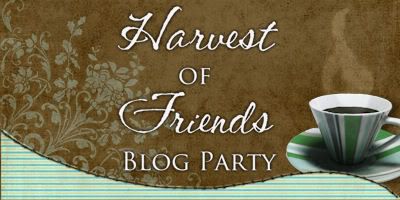 Well, my friend Lynnette at
Dancing Barefoot
came up with this great idea of a blog party. I thought it would be fun to answer these questions and hopefully get to know y'all as well! I've enjoyed visiting some of the blogs from her site and hope to visit more in the next few days! So have fun!


1. What is your favorite thing to snack on while you're blogging?
Since most of the time I blog in the morning, my big cup of coffee and toast.
2. What is one thing you wouldn't want to live without?
Assuming that family is a given. :-) My Bible and I guess my coffee
.
3. Beach, Mountains or Farm? Where would you live if you had a choice?
I have never lived on a farm but would like to try sometime...however Chris and I have said we would love to live in the mountains then travel to the beach often. So I guess I couldn't choose!
4. What's your least favorite chore/household duty?
Cleaning bathrooms, not fun!
5. Who do people say you remind them of?
Not sure
6. Prefer parties and socializing or staying at home with the fam?
I love to get together with family and friends but more often I'd rather stay home with my two guys!
7. What's your all time favorite movie?
The Man from Snowy River
8. Do you sleep in your make up or remove it like a good girl every night?
I have to admit that sometimes I am too lazy to remove my makeup at night. But I am definitely ready to get it off by the next morning!
9. Do you have a hidden talent or a deep desire to learn something that you've never had a chance to learn? What is it?
Yes, to paint or draw.
10. What's one strange thing you're really good at?
Hmmm, not sure about that one, I'll have to get back with you on that one.
11. What first attracted you to your spouse?
His eyes and his smile!
12. What is something you love to smell?
Roses...
13. Tell something about you that you know irritates people.
That I can't make up my mind sometimes!
14. When you have extra money (HA!) what's the first thing you think to do with it?
Buy a farm! (As long as Chris agreed that is... :-))
15. Are you a silent laugher or a loud laugher? What makes you laugh the hardest?
I am a loud laugher till someone tickles me then no sound comes out.... Funny stories and "America's Funniest Videos" make me crack up!
Click here for one of my favorites, you may have seen this one.
"Laughing Babies"
16. Where is your favorite place to shop?
Anthropology (Although I have the worse time remembering the name, Apologia, Apothecary...One of those that starts with an A!) and I don't always buy stuff, a little pricey!
17. What's one thing you'd do more often if you had more time?
I would sew or make a quilt. I love to sew and would love to learn how to make a quilt.
18. Are you a big spender or frugal?
90% of the time I am a frugal shopper or I try to be.
19. Who is your favorite character of all time (from a movie or book)?
(Can't be real)
Fanny Broadmoore from Tracie Peterson/Judith Miller's Broadmoore Legacy Series. She has a very quiet, sensible, yet strong spirit.
She is not afraid to stand up for what is right.
20. Would you want to be famous?
Nope.
Well, that's it for me! Thanks for visiting and if you leave a comment, post a link to your blog and I'll be sure to visit you!