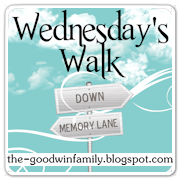 It was April of 2006, I had dreaded this day and hoped that somehow it would go away, yet it did not. I knew Chris felt the same way but much less than I because he had to do this. You see he was being shipped out to Iraq for a 5 1/2 month deployment. I know many, countless wives have been in my shoes before me and faced this day many times. I sat there in the airport with Chris, Riley (who was 4), Chris' Mom, and my parents and my niece (who my parents kept at that time, she is one year younger than Riley), thinking "how do the wives of these soldiers do this time and time again?" "How can you let the man you love go into the unknown?". It was at that time I began the battle of being angry. scared and placing our little family in God's hands and letting Him carry us each step of the way.
It was a long 5 1/2 months. But I learned some very wonderful things that spring/summer about my Lord and Savior, about myself and my husband, and the precious people God placed in our life. I learned that I could not just sit down and give up and expect life to go on. Riley and I had the whole summer before us and we had plenty to do. Riley needed life to be as normal as possible, yet he was angry too! Surprise, surprise! I remember realizing for the 2nd or 3rd time in his life that he had a strong will and he was not going to let this one go down without a fight! We spent two weekends in a row dealing with behavioral issues that reared their ugly heads the first week Chris left. I prayed the whole time "please Lord, don't let our whole time Chris is gone go like this! Give me strength and wisdom, please!" After some time in time-out, some tears (from both of us), some talking to and some discipline and more tears, Riley learned that bad behavior was not going to be allowed while daddy was gone.
We got busy with things like a garden, we grew Sunflowers that got taller than Riley and I both! Karate lessons, playing, spending time with family. I even was bold enough to pull our little camper to Florida with some friends to go camping at the beach! This was the first time that summer that I realized the power of prayer in our lives. I was scared to death to pull that camper all the way down there but yet I didn't want to miss it for the world! I knew Chris, my family and all of us that were camping were all praying as we caravan ed to Destin. We made it there safely and in one piece, all thanks to prayers being lifted up. We missed Daddy greatly but we had a wonderful time with precious friends whom we love dearly.
One day we were on the beach and a military helicopter flew overhead very close to the ground. You could see the soldiers very clearly riding on the helicopter. Riley looked up and asked, "Is that my daddy?" My dear sweet friend Karen and I looked at each other and tears welled up in our eyes as we knew the answer was not one Riley wanted to hear. My heart ached for my precious boy.
It was so comforting to be with friends whom you know you can count on and will step in and help you whenever you need it. But more importantly I knew they were praying for Chris, Riley and I as we were apart. Those prayers made that trip a time of rest, fun and growing for both of us.
The summer went on and we stayed busy. Periodically we would have a chat with Chris over the webcam. What a blessing that was to see his face and see him healthy! Riley would eat up those times with Chris, telling him everything he could and acting silly of course! We had a webpage we would go to to count down the days till Daddy got home, we watched it daily. We visited Grandparents and had a good time. All the while being carried by our precious Lord. Those times I began to worry, I would call Karen and ask her to pray for me, then I would have the strength to get on my knees and pray myself. Many nights I would wake up wondering how Chris was doing (because that was his day time.) so I would email him and he would respond letting me know he was ok and tell me he loved me. There were times that he didn't respond immediately and I would go back to bed praying for his safety and my peace. The next morning I would wake up to find a response to my email. Thank you Lord!! I know it was only by the grace of God I was able to sleep at all those nights.
Finally in late Aug of 2006 it was time for Daddy to come home! Riley and I traveled to Montgomery to pick him up. The waiting in the airport was awful, Riley had drawn a picture to give to Chris. Members of his guard unit were there as well to welcome him home. Finally Riley and I dressed in our best saw our Chris walk through the gate! Before I could say anything Riley took off running and jumped in this Daddy's arms! I thankfully had the sense to have my camera out so I snapped this great picture (through lots of tears of course!). I couldn't believe he was finally home!
Our precious friends were such a blessing to us once again. They collected enough money and put together a wonderful basket so that Chris, Riley and I could spend a night in a hotel together that first night Chris came home. I made the reservations and got it all squared away. We stayed at a Nice hotel there in Montgomery and had a wonderful breakfast together. We visited Chris' Mom and got some stuff squared away on base before we were ready to head home. Riley was so happy to have his Daddy home, he talked all day and told Chris just about everything he could think of! Once we got home, he pulled out every toy he could think of to share with his Daddy. He was making up for lost time.
Chris brought Riley this awesome hat home that had his name, Spiderman, and Operation Iraqi Freedom on it and a teddy bear. He still wears that hat today.
Since that fall of 2006 when Chris came home and even times after, it has been so comforting to me to look back and see every instance that God carried Chris, Riley and I. I remember asking myself when he left, "How do the wives of soldiers do this time and time again?" Because for us, it has only been once. Now I know the answer. God does it. Not by my own strength and will power but God carrying each of us in His hands. Giving us the grace and the strength to face each moment that comes up. Giving me the strength to get on my knees and place my family in His hands. Placing precious people in our lives that were willing to stand in the gap and lift us up in prayer daily. What an awesome time that was to see God work.
I hope you've enjoyed my Wednesday's Walk down memory lane. I'm sorry it was so long, I prayed that I would have a memory to share this morning and this is what God laid on my heart. Click on the button at the top and join us on our Wednesday's Walk, won't you?