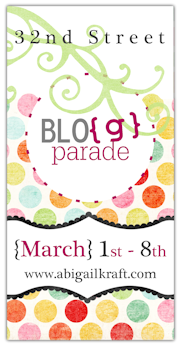 Abigail over at
Rear Window
is having a Blog Parade! Come join the fun!
It's a great way to meet fellow bloggers and make new friends. Here goes:
1. What's your favorite time of the day, and why?
I actually have two favorites. First thing in the morning. Yes for those of you who know me I do have a hard time getting going but that is when I can have my quiet time with my Lord. So that is one of my favorites. The other is when Chris comes home and we have dinner together as a family. Good stuff!
2. If health wasn't an issue, what food could you live off of?
Pasta of course! Pasta and cheese!!!
3. If you could have one wish granted (besides wishing for more wishes), what would it be?
Another child in the house, which of course would mean a sibling for Riley.
4. What's one thing that you get teased about a lot?
My laugh. Sometimes nothing comes out, I just hang my head and laugh which means I shake when I do.
5. If you could choose one movie, book, or TV show to spend your life in, which would you pick? What type of character would you be?
I would choose
The Red River of the North
Series by Lauraine Snelling. The characters of the book came to America from Norway to make their home in Blessing, North Dakota. They worked hard, loved the Lord, and were strong people. The women in these books were a good example for me. They faced their hardships with God right by their side and they stood strong in Him. They were strong courageous women.
6. If you could have one talent that you don't already have, what would it be?
It would be either Photography or painting/drawing. I love taking pictures but don't really know how. I would love to learn how to draw or paint. My mother and all of my sisters can draw and/or paint and are very talented! I didn't have the patience when I was younger to learn.
7.If money were no object, where would you go on vacation?
Europe, Hawaii and Jerusalem
8. If you were an awesome singer, which genre would you sing?
The Big Band or swing era. That had to be fun times!
9. If you could have a $10,000 shopping spree to one store, what would it be?
Lowes! I could redo our kitchen.
10. If you could live in any point in time, when would it be?
The 1800's. Yes, wearing all those skirts would be a big hassle but I still would like to experience living during that time. I would love to learn to live off the land and use what we had and appreciate it! To work for what we have and feel a sense of achievement.
11. If every outfit in your wardrobe had to be one color, what would it be?
Royal blue or dark blue. It is so calming.
12. If you were one of the seven dwarves, which one would you be?
(Doc, Grumpy, Sneezy, Sleepy, Bashful, Happy, or Dopey)
I would like to be Happy because he is so happy all the time!
13. What's the last album you listened to?
The Best of Andrea Bocelli Vivere
Great Album! He has a wonderful voice!
14. What's something we'd be surprised to know about you?
My husband Chris and I lived around the corner from each other when he was 3 and I was 2.
We did not know this till we met in 1992 but isn't this a small world?!
There! Now it's your turn! Head on over to
Abigail's
blog and she'll get you going to join the Blog Parade.
Thanks for stopping by and have a great week!