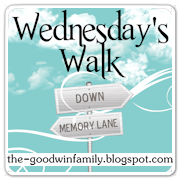 I am going back to the Fall of 2006, Riley is 4 1/2, Chris has just gotten home from Iraq and we needed some family time! We decided to take a trip to Branson, Missouri were we spent a week resting, and having fun, but mainly having some good quality family time.
We were headed to Silver Dollar City and Riley's main request was that he wanted to see a cowboy! The first day we were there, we spent the whole morning just making our way around the park, checking out everything that we could. As we went along Chris and I noticed we hadn't see a cowboy yet! Maybe we were in the wrong place at the wrong time...maybe there weren't any there at Silver Dollar city?..I had seen other tradesmen or women practicing there trade dressed up as cowboys and wearing the prairie dresses, but no cowboy just walking around jingling his spurs or slinging a pistol...
Finally after lunch that day, we were coming up a walkway and headed to a different part of "town" when we saw what looked like a cowboy sitting in a chair watching an artist busy at work. I stopped and pointed him out to Riley, his face lit up and a big smile came over him. I suggested he go say hi and I would take their picture.
Riley walked up to the cowboy with this look of awe on his face. The cowboy said "howdy" and asked Riley a few questions which he gladly answered. After a few minutes the cowboy stood up and looked at me to see if we were ready for a picture. Are you kidding me? He had to have been about seven feet tall! I was so shocked at how tall he was and how tiny my son looked next to him that it took me a minute to have the where-with-all to get my camera ready! Riley turned around and put his hands on his hips and smiled this big smile as if to say, "I found my cowboy! Take my picture Mom!" It was priceless!
I remember how little he was that trip and how excited he was to have his family back together and have some good fun looking for a cowboy! Thanks for joining me on my Wednesday's Walk today!