Wow! I was so excited and blessed to see that Southern Homeschool Journey was Lynnette's (at Dancing Barefoot) featured blog today! This was an awesome way to start my day! I'm really looking forward to getting to know each of you and look forward to visiting your blogs as well. Thanks so much Lynnette for featuring Southern Homeschool Journey!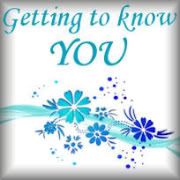 I know Lynnette, your right, I do need a header! Being new to blogging and all, I try to make changes and adjustments and strange things happen....I have no idea what I did. But I am working on it, slowly but surely. There is something to say about having a 42 year old mind, I just don't seem to remember all the stuff I used to!?? You did a great job at putting together those pictures for my header,
Yes, it is hard to believe that 24 - yes 24 years ago Lynnette and I graduated from high school in the small town of Derby, Kansas! Which isn't quite as small as I remember anymore, it has grown leaps and bounds since I moved here to Alabama. And yes, saying 24 years does make me feel old -Sometimes- but I like to think I'm really quite young. :-) I guess I realized that when Riley was born, I would be 52 when he graduates from High School. So, I guess I finally reached a point that I just had to "deal with it!". You know, positive thinking does pay off...doesn't it?
I am so thankful Lynnette and I have been able to reconnect after all these years! Her joy, her bubbly personality and her spiritual insight as God has led her have all been an inspiration and a blessing to me as I have followed her blog over the last several months. God is using her in a magnificent way!
Homeschooling has been a major part of our lives for the last 2 1/2 to 3 years. So I am fairly new to it, and Yes, we are having a blast! But I'll tell you, I learn something new about my son, myself and homeschooling every time I turn around. There are days that I am charged and ready to go and there are days that I am worn out and exhausted and not quite sure where to start. Then there are days Riley is energized and excited about what we are doing and the other days he looks at me like "Not that again!!" Either way we keep plodding along and don't give up. It is a constant effort to remind my self why I am doing this! Because God told Chris and I to do this! That's why!
I realized shortly after we started homeschooling that I think my homeschooling style is fairly eclectic, at least for now. There is so much that I see out there and would like to try! Our curriculum choices right now are Abeka, Apologia Science (Jeannie Fulbrights books), and Mystery of History. Occasionally we'll throw in a Lap book or Unit Study from Amanda Bennett as well. During the spring and summer months I love to incorporate some of Charlotte Mason's ideas, especially in gardening and camping. That is one of the blessings of homeschooling, you can adapt your learning to what ever needs you, your child or your lifestyle have!
I am so thankful that y'all have stopped by my blog today! I hope you find some encouragement or maybe a new idea or two. Most importantly I hope you find the joy I have in homeschooling our son and doing my best to raise him in the admonition of the Lord.
Have a blessed week!